by admin on Oct.08, 2014, under Uncategorized
Just a few items that can be found in the NETHERWORLD Gift Shop! Open every night the Haunt is open. Get your NETHERWORLD Goodies, Halloween treats and Christmas gifts while you can!
Leave a Comment
more...
by admin on Dec.06, 2013, under Uncategorized
Mark your calendars…The NETHERWORLD Haunted House gift shop will be open on Saturday(s) December 14th and 21st from Noon till 5:00pm for all of your strange and unusual shopping needs!
Leave a Comment
more...
by admin on May.10, 2013, under Uncategorized
Be sure to come to HALLOWEEN EXTREME : A Halloween, horror and haunted house extravaganza!
MAY 24-26, 2013 Rosen Center, Orlando Florida
Leave a Comment
more...
by admin on Feb.03, 2013, under Uncategorized
Check out the new NETHERWORLD Giftshop! Home to not only your favorite goodies but also a brand new squished penny machine with 4 custom NETHERWORLD dyes!
Leave a Comment
more...
by admin on Jun.16, 2011, under Uncategorized
Recently, our dear friend and artist extraordinaire – the world-famous Eric "Unkle" Pigors – suffered a massive, near-fatal heart attack. Fortunately, he acted on the warning signs quickly and caught things early enough to remain in our lives and is on his way to a full recovery. However, the expense of such an ordeal is not small and we are asking for your help in raising funds to ease this burden for Eric and dear wife Denise.
If you've ever had the good fortune to meet Eric, you know what a wonderful man he is. As humble as he is talented, Eric is the kind of artist who puts his fans first, always going out of his way to ensure that the good people who line up to collect his work are recognized and taken care of. He is the genuine article – a true modern-day gentleman.
By following the link below, you will have the opportunity to assist the Pigors' by making a purchase from the wide variety of merchandise offered on the ToxicToons website. Every dollar spent will place the Pigors' that much closer to putting this unfortunate ordeal behind them – now, more than ever, your support will make a significant impact on the lives of Eric and Denise. Take your time and browse the site fully – there's a little something for everyone. Please share the link with any and all, and help us thank our wonderful friend by lending a hand.
http://www.toxictoons.com/store_page_3.htm
As a special incentive to help our friend Eric…If you purchase $20 or more in merchandise from Eric, order by July 4th and mention "Netherworld Haunted House" when you check out, you will be entered into a drawing to win a limited edition ToxicToons mask (http://www.trickortreatstudios.com/gruesome_full_head_halloween_mask.html), designed by Eric himself! Eric will announce the winners on his facebook page and masks will be shipped to you from your friends here at Netherworld Haunted House.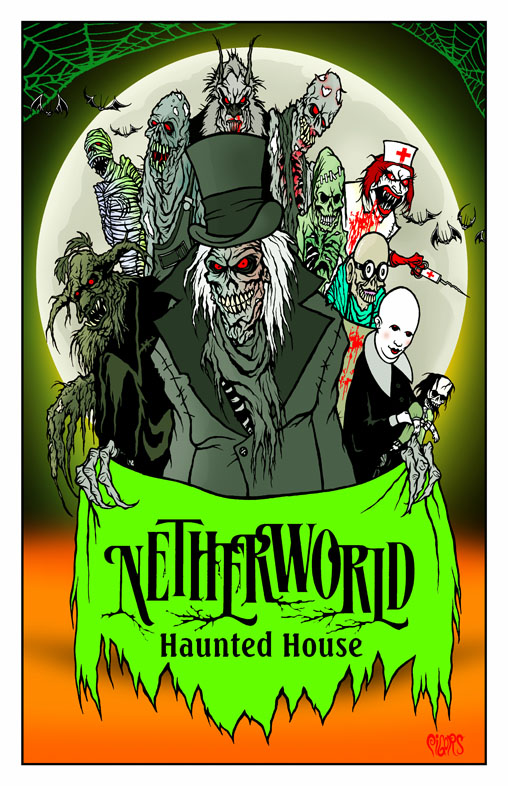 On behalf of Eric, Denise and all of us at Netherworld Haunted House, we thank you for your continued support!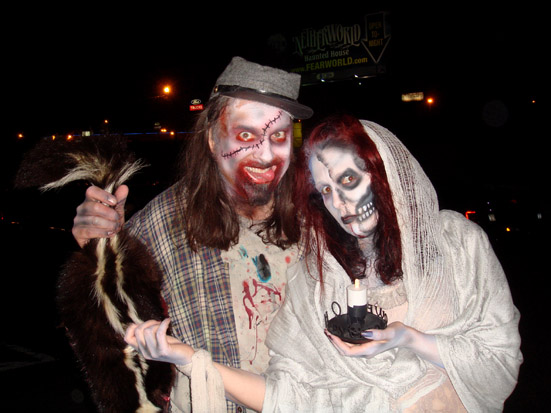 Leave a Comment
more...
by admin on May.02, 2011, under Uncategorized
Eric "Unkle" Pigors is a staple of the contemporary horror artist crowd. Having worked as a Disney animator for over fifteen years, Pigors' personal work would seem to be a huge diversion from the mouse and princess scene. But to the many devoted collectors who flock toward his website and convention appearances, Eric Pigors has become "the" name in macabre illustration. Dwelling in California, "Unkle" Pigors makes an annual birthday trek to Atlanta, Georgia for a weekend of fun and frights at Netherworld Haunted House. He was kind enough to take a few moments to lend us a bit of insight into his work and love of horror and All Hallow's Eve…
We have had the good fortune to see you at Netherworld every season for the past several years. You are in close proximity to Disneyland's Haunted Mansion, so what is it about one of the country's most popular haunted attractions that sends you to the other side of the country to celebrate?
Well, I was introduced to one of the co-owners of Netherworld at the San Diego Comic-Con about 6 years ago. We hit it off, and he invited me to come sell my TOXICTOONS merchandise at Netherworld on my way back from doing Screamfest in 2007. The first night I sold my merchandise, but on the second night it rained. So I asked if I could dress up and scare people that night. He let me, and I had so much fun scaring people that I told my wife we have to go there next year together and scare people together. Then I told her in detail how great their haunt is! Next year we went to Netherworld, and we had a blast, so we have gone back the past 3 years together.
The first time I walked through Netherworld's mazes I was amazed how much detail they put into their haunted house. I was jumping up and down, and yelling at the monsters how cool it was while going thru the maze. I'm sure the monsters must have been wondering "what's wrong with this guy?"
I also love Disney's Haunted Mansion. And I remember as a kid going to Disneyland and seeing the Mansion not opened, and the sign out front saying they are collecting ghosts for the ride, and I kept wondering "what is this Haunted Mansion going to be like once it opens?" I couldn't wait!
Also around this time I bought my first record, "Walt Disney's Chilling Sound FX" record. Funny story about my record – I listened to it once, then I ran to show my friend Tom Cole my brand new record and watch it slip out the record's jacket and bust into pieces on the floor! I bought 2 of this record about 5 years ago. HAHAHA!
Tom Cole's dad worked for Walt Disney's WDI doing work for the rides. And he kept saying he was going to build a Haunted Mansion ride in their garage. Whenever I went to their house I would peak in the garage and just see their VW sitting on blocks collecting dust and cobwebs, and I would be disappointed. We once spooked out their bedroom with fishing wire to a rocking chair and ghosts, and then hid in the closet and made ghosts sounds to scare the neighborhood cuties! It didn't scare them though!
Can you tell us a bit about your artistic influences – how you got started and some of the creative positions you've held?
Sure, most of my influences are from when I was a kid, "Odd Rods" stickers, Mad magazine, "The Munsters", Charles Addams, "Wacky Pacs", Plop comics, EC comics, animated cartoons like "Bugs Bunny", Tex Avery cartoons, Walt Disney, Fleisher Brothers and "Frankenstein" all seeped into my brain. Then when I got older it just started pouring out of me in my TOXICTOONS ART.
I always loved hand-drawn animation and went to a school called "BRANDES ART" that was taught by Disney artists. I went there for two years and then hit the pavement looking for work. My first job I worked on was," THE LEGEND OF ORION in 3d", which was 3d view master style glasses, Not 3d like computer animation you see nowadays.
Then I got to work on "Steven Spielberg's Amazing Tales" show, "Family Dog" which Tim Burton designed the characters for. This project was so fun and Tim's style was so similar to my own style at the time.
In 1987 I started on "Oliver and Company" at Walt Disney Feature Animation. I worked for Disney 15 years straight, on the films " The Little Mermaid", "Aladdin", "Beauty and the Beast", "The Lion King", "Hercules", "Tarzan" and lots more. I even was given the chance to do character designs on "Runaway Brain", which was a Mickey Mouse short with Peg Leg Pete, and they chose one of the characters I designed and named it Pigors after my last name. I also drew Silver, the character on "Treasure Planet", who was a lot of fun to draw. But the characters I enjoyed doing there most were the Hyenas on "Lion King" , and Hades on "Hercules".
In 2002 they told us people didn't want to see hand drawn films anymore and let go over 700 artists.
So I took the $$$ I had made from Disney and decided to invest it in doing my TOXICTOONS. And I have been doing my art since.
What is it that draws you toward the dark and eerie? Have you always had a love of horror and dark art?
Well as a kid I loved fun spooky monster stuff. I liked horror host shows , had some monster model kits, Jack Davis' "You'll Die Laughing" cards, Rat Fink, "Odd Rods", "Frankenstein", "The Munsters", and I loooooved HALLOWEEN time! And love monster art!!
My mom still asks me why I draw monster art. And I tell her," I grew up with it."
You've been known to lurk about the darkened halls of Netherworld Haunted House from time to time. Do you frequent haunts during Halloween season, and can you tell us about a few of your favorites?
Yeah, that was me and my wife hiding in the shack in the top maze for two years the last weekend before Halloween. I like going to Knott's Scary Farm, Universal Studios and home haunts. There was a really great home haunt in California done by Disney Imagineers and had lots of similar FX like the Haunted Mansion.
Disneyland's Haunted Mansion music and the song "Grim Grinning Ghosts" is one of my all-time favorite pieces of music. And I listen to it a lot when I draw, as well as other old Halloween songs from the 60s & 70s.
One day I would love to travel across the USA and see as many haunts as possible.
You have legions of rabid fans (most of the Netherspawn among them). We've seen many a Pigors tattoo on the arms of our friends and patrons – as a creator what are your thoughts on seeing your work permanently emblazoned on a fan's flesh?
I truly appreciate the support the fiends of Netherworld have given me and my artwork over the years. And when people show me tattoos of my art on them, well it's the highest compliment an artist can get. That's on them for life.
How do you react when you see a badly executed rendering of your art in tattoo form?
Well luckily I have only seen a few that were not done so well. I get a little bummed, mostly because I want it to look as good as possible since it's on them for life. I sometimes wish the tattooist would have just traced my line work a little better. But I have also seen some that have plused my art, or done my art but in the tattooist's style.
What are some dream projects you've had the opportunity to be involved with, both horror-related or otherwise?
Well, the Disney films work was one.
But every Halloween I make a Trick or Treat bag special I sell at my site www.toxictoons.com I enjoy and look forward to this a lot.
My Halloween masks represent one of my dreams, and it's now coming true through WWW.TRICKORTREATSTUDIOS.COM. They have four masks so far based on my TOXICTOONS characters. I would really love to be even more involved in the Halloween industry, by having more of my Halloween art made into merchandise. Maybe props, toys, shirts, maybe even a TOXICTOONS theme in a haunt.
But my ultimate dream project is to do an animated Halloween special with my TOXICTOONS characters. Then I can R.I.P.
What is a project or subject you would like to take on – something that would really stir your creative juices and allow you to cut loose?
Well the Halloween special, designing my masks, and making Halloween merchandise would definitely be top of my list. I am currently working with a fellow Disney artist who is building a very cool app with my art that should be coming out in May or July of 2011.
People are going to really have fun with this app.
Over the past several years you have released a myriad of merchandise targeted at your fans and collectors – toys, stickers, art books, buttons, apparel and much more. How important do you find it to offer a wide variety of items, as opposed to simply releasing fine art prints and posters?
It's a lot of fun trying to figure out new ways to put my art on merchandise.
Ed "Big Daddy " Roth was a huge inspiration in what he put his art on – model kits, shirts, masks, stickers, rings, toys, prints, etc.
Only problem is when you have a huge selection like I do right now it eats up your money quickly. Some of my merchandise is made by other companies. But most of them I create, like my shirts which I control and are my most popular item I sell at my site
Your stylized characters have become somewhat of a staple in the Netherworld Haunted House gift shop, appearing on everything from apparel to art prints to Halloween masks. Other than your website, where can fans find your merchandise and collectibles?
Well WWW.TOXICTOONS.COM is pretty much it for now. So come on down and check out my creepy website, and if you enjoy my art grab a shirt, some stickers, signed prints or even my "three artbook special", that saves you $40 and comes signed with a signed Netherworld poster and stickers.
Quick top faves list:
Favorite horror film?
"Bride of Frankenstein"
Favorite horror artist (other than yourself)?
Jack Davis
Favorite band or album (what they used to call musical recordings back in the day)?
Minsitry – "A Mind is a Terrible Thing to Taste"
Least favorite holiday food?
Yams -YEECH!
Any last words of advice or encouragement for all those aspiring artists, wishing to leave their stamp on the contemporary art scene?
Yah just do what you like, and if it takes off for you, that's great! And if it doesn't, you had a lot of fun creating what you enjoy!
Visit toxictoons.com for all of your Eric Pigors information and merchandise cravings, or keep your eyes peeled and catch him when he leaps out of the dark some enchanted evening at Netherworld Haunted House!
Leave a Comment
more...
by admin on Feb.16, 2011, under Uncategorized
How Much Is That Blood Curdling, Gore Encrusted, Fang Baring Demon Skull In The Window?
Thom Trainor, Netherworld Haunted House gift shop operator www.Fearworld.com
"I made it through – do I get a t-shirt?"
I hear it every night, at least once (as well as the ever-popular, funny-the-first-three-hundred-times "do y'all sell Depends here?"), along with a thousand other comments, questions, stories and speculations from the adrenaline-boosted patrons milling about the hallowed grounds of Netherworld Haunted House.
Working behind the counter of the Netherworld gift shop, you learn to wear many hats in addition to humble shopkeeper. On any given night, at any given time, you take on the role of bartender, therapist, babysitter, financial advisor, friend, coat-check clerk, stylist and walking Wikipedia. Standing as a sort of "scare free zone", the gift shop provides a calming social outlet for any and all. Perfect strangers will share just about anything with you when their tongues are loosened by scares – aside from the afore mentioned need to swap one's drawers, you literally see and hear it all…
See, the real entertainment at a haunted attraction doesn't necessarily come from within the darkened chambers of the house. The true thrills, chills and laughs come from the rabid fans who line up at the shop for a chance to take home some badge of courage proving they survived a tour through the living embodiment of their fears. Thrills in the form of the occasional celebrity visit, or an outing of sorority sisters decked out in sexy costumes purchased the night before at the local party store. Chills in the form of the family of eight who drove 375 miles overnight in a rickety '81 AMC Pacer without a proper hygiene pit stop in order to spend an evening in the south touring a humid fright fest. And laughs in the form of, well, practically everyone. There's an Emmy-winning, long-running situation comedy just waiting to be launched about these folks – they are improv comedy at its finest, and I get a front row seat every night of the season!
Like any situation comedy worth its Nielsens, Netherworld sees an amazing array of humorous stereotypes, approaching the sales counter night after night for an unknowing audition for their minor – but very memorable – walk-on part. Short of a director on set shouting "action!", the stage is ready…
There's the previously referred to family of eight. They travel all over the country on a shoestring budget to visit as many haunted attractions as possible, and they wear their colors proudly. A hat from here, a t-shirt from there, a button from this haunt, a patch from that one. They go out of their way to use a compliment of your attraction as a launching pad for a discussion on the many others they've descended upon:
"We just got back from 'Willy McWiggins' Chilling Chicken House' in Broken Ankle, Missouri – shoot, it weren't nothin' like this! They did have some scary roosters, though – got me this haunted chicken foot necklace!"
The entire clan adores Halloween, and doesn't care who knows it. Our kind of people!
Then we have the suburban mom. SUV packed with teens, she bravely dons her hottest casual duds and forges on into the lead position, warding off any impending danger to her brood of charges – all the while unaware that stiletto heels were not invented with a walking tour of the dark in mind. As she arrives at the gift shop, ready to supply the kids with commemorative swag from their successful adventure, her only personal request is that we call her if we find her left shoe…
We can't forget the swaggering guys, who read somewhere that a great idea for a first date is a scary movie, since it makes girls cozy up to you in the dark. Guaranteed romance, compliments of the fear factor! A haunted house would have to deliver on that promise tenfold, so why not bring your lady to the scariest place on earth? Forty-five minutes later, our stalwart heroes come streaking out of the haunt like cartoon characters, feet blurred in a circular whirlwind as their dates calmly walk out behind them with ladylike grace. Best of luck tonight, guys!!!
Another favorite is the corporate team building group. Fueled by nervous energy (and the three scotch and sodas they needed to bolster courage), what began as a novel idea for encouraging teamwork ends in an every-man-for-himself free-for-all, as screams and laughter quickly melt away any semblance of unity.
Next comes the gent who inquires about "big boy sizes" in t-shirts. A monstrous teddy bear of a fellow, all smiles and laughs, he is genuinely amused by the fact that we only carry up to 3XL in any of our styles. Sporting a couple of armfuls of artsy horror-icon tattoos, he lets us know with great enthusiasm that he has found new ways to sport his love of the holiday, as most folks don't stock his sizes. His sleeves represent years of dedicated haunt fandom, a virtual "who's who" of the fiends and freaks of the scare scene. Unsolicited, there among the Freddies and Belas and Brides and Pinheads dwells Netherworld's Collector – our very own human billboard (I dare even the most near-sighted among us to miss those massive limbs)! He is content to buy a hat or a couple of shot glasses, but encourages us to think big next season!
And speaking of enthusiasm, let's take a moment to talk about Zombie Rampage…our very own branded energy drink, what started out as a novelty tie-in to a themed haunt grew into a frenzied need by thousands of teens (and ex-teens) to satisfy their own rabid hunger! If you think werewolves and zombies and vampires are crazed, try telling a group of hopped-up high schoolers that you just sold out of their favorite new pick-me-up – I'd actually prefer to have my brains devoured by the undead than to face the scorn of a sixteen-year-old suffering from energy drink withdrawal. Thirty seconds later, thumbs flailing away wildly on their smart phone keyboards, half the kids in the city are alerted to this travesty and you have an epidemic on your hands!!! Best advice I can offer to any respectable gift shop clerk: stock plenty of energy drinks. Excited teens are far more effective advertising than any primetime network commercial.
A particular favorite is, of course, the sheepish boyfriend or husband who asks his significant other "Would you like a pair of sexy Netherworld thong panties?". Everyone within earshot knows who the purchase is really for, and that the real question is "Can I buy you a pair of sexy Netherworld thong panties to wear for me?" While the answer varies from lady to lady, nine out of ten times the blushing fella walks away with a crumpled bag containing his new prize stuffed into his pocket, proud of his clever – yet all-too-transparent – ploy. He goes home happy, and we get some very interesting marketing opportunities…
I'm also a big fan of the Haunt Romeos. You've seen them. The lone single guy in a group of five couples, overcompensating for his lack of a date with a heavy dose of come-on overkill with the more ghoulish girls in the cast. His comedic attempts at attaining a date with the sexy vampire bride lurking about the parking lot – her once-pretty face contorted in a grim, blood-soaked demonoid visage – border on sad, as he has convinced himself that a snappy "wanna go to prom with me" is the first time that line has ever been used on this patient princess of the dark. Truth be told, he'd be elated by a sincere reply of "I'd love to".
What haunt would be complete without the spooky groupies who hover about nightly, dressed in black, shuffling about without ever seeming to actually enter the haunt. Authorities on all things Netherworld, they live and breathe the experience, and – much like myself – seem to enjoy the antics of the visitors far more than the frights that await inside. They wait anxiously for each group to exit, and approach the gift shop with whatever nuggets of comedy gold they may offer.
"I made it through – do I get a t-shirt?"
"Yeah, you get a t-shirt. They're twenty bucks, but we only go up to 3XL…"
Leave a Comment
more...