by admin on Jun.16, 2011, under Uncategorized
Recently, our dear friend and artist extraordinaire – the world-famous Eric "Unkle" Pigors – suffered a massive, near-fatal heart attack. Fortunately, he acted on the warning signs quickly and caught things early enough to remain in our lives and is on his way to a full recovery. However, the expense of such an ordeal is not small and we are asking for your help in raising funds to ease this burden for Eric and dear wife Denise.
If you've ever had the good fortune to meet Eric, you know what a wonderful man he is. As humble as he is talented, Eric is the kind of artist who puts his fans first, always going out of his way to ensure that the good people who line up to collect his work are recognized and taken care of. He is the genuine article – a true modern-day gentleman.
By following the link below, you will have the opportunity to assist the Pigors' by making a purchase from the wide variety of merchandise offered on the ToxicToons website. Every dollar spent will place the Pigors' that much closer to putting this unfortunate ordeal behind them – now, more than ever, your support will make a significant impact on the lives of Eric and Denise. Take your time and browse the site fully – there's a little something for everyone. Please share the link with any and all, and help us thank our wonderful friend by lending a hand.
http://www.toxictoons.com/store_page_3.htm
As a special incentive to help our friend Eric…If you purchase $20 or more in merchandise from Eric, order by July 4th and mention "Netherworld Haunted House" when you check out, you will be entered into a drawing to win a limited edition ToxicToons mask (http://www.trickortreatstudios.com/gruesome_full_head_halloween_mask.html), designed by Eric himself! Eric will announce the winners on his facebook page and masks will be shipped to you from your friends here at Netherworld Haunted House.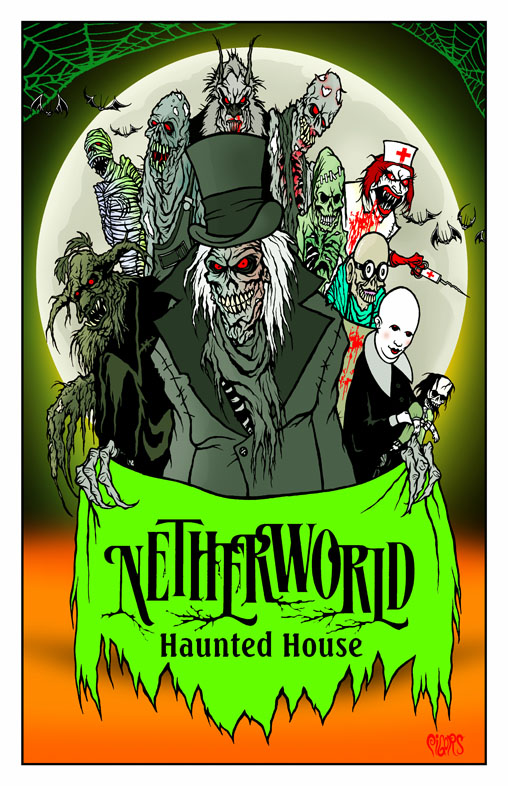 On behalf of Eric, Denise and all of us at Netherworld Haunted House, we thank you for your continued support!